The Fokker-Team-Schorndorf produces on request reproductions of the wooden two blade AXIAL airscrew of 2620mm diameter for roatary engines and of 2780mm for 160 PS Mercedes engines.

Price: $6,000.00 US Dollars (less hub!)

We can also produce other airscrews from drawings delivered.

In case of interest:
engels@fokker-team.schorndorf.de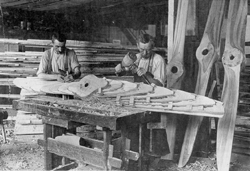 Serial Production of wooden airscrews at the Anker Propellerworks, Berlin in 1915.